Ciacci Piccolomini d'Aragona - Rosso di Montalcino 2020 (750ml)
Price: $
26.99
In Mixed Case:
$22.94
Quantity in Stock: 2
The origin of the Ciacci Piccolomini d'Aragona estate goes back to the 17th century. The oldest part of the property is the Palazzo (meaning Palace), erected by Montalcino's Bishop, Fabivs de' Vecchis, Abbot of Sant Antimo abbey. Over the course of time, the Palazzo became the property of the Montalcino diocese and was auctioned according to Italian law regarding ecclesiastic property.
In 1877 entire property to Francesco Ciacci, head of a Castelnuoveo-based family. In the mid-1900s, the so-called "Palazzo del Vescovo" became known as the Palazzo Ciacci Piccolomini d'Aragona after the marriage between count Alberto Piccolomini d'Aragona, a direct descendent of Enea Silvio Piccolomini (Pope Pius II), and Elda Ciacci.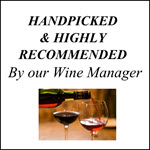 Customers Viewing This Page Might Also Like These Items
Price: $18.99
Price: $24.99
Price: $17.99