Irvine & Roberts - Estate Chardonnay 2017 (750ml)
Price: $
32.99
In Mixed Case:
$28.04
Quantity in Stock: 5
This Chardonnay begins with an expansive aromatic profile, ranging from stone fruit and white florals to fresh herbs and calcareous notes. Crisp peach, lilac and dandelion lead into wet stone, granite, and sweet lime. As the wine opens, aromas of sunflower, spring grass, and tarragon come forward. On the palate, look for flavors of jicama, daikon radish, and apricot. The mouthfeel is precise and elegant, with an appetizing beginning and juicy acid to draw you through an up-tempo finish.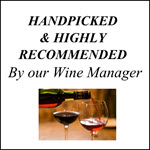 Wine Enthusiast: 91 Points
At roughly half the cost of the winery's reserve, this seems quite comparable. It's a mix of fruit from vines planted in 2007 and 2012, bursting with fresh peach and mango flavors. It extends into a rich, toasty, lingering and creamy finish. PAUL GREGUTT
James Suckling: 90 Points
Attractive spice and toasted cashews with pears and melon, leading to a palate that has a fresh-pear, apple and honey mix. Drink now.
Customers Viewing This Page Might Also Like These Items
Price: $23.99
Price: $19.99
Price: $17.99